<![if !IE]> <![endif]>

DENTAURUM IMPLANTS GmbH
Turnstr. 31
75228 Ispringen
Germany
+49 72318030

+49 7231 803295

List of product entries
This exhibitor shows the following products and commodity groups:

Company & products
Company
Company profile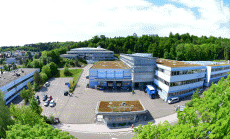 Company portrait
Dentaurum Implants has more than 25 years of experience in the field of implantology whilst its parent company has gathered a wealth of expertise over more than 135 years in the fields of dental prosthetics, titanium technology and orthodontics. The synergy potential this creates leads to groundbreaking innovations und results in solutions that are convincing. Similarly, long-term scientific cooperations with experts at universities and clinics and ongoing discourse with dentists and dental technicians have been equally beneficial.

The core products from Dentaurum Implants are the implant systems tioLogic® TWINFIT and CITO mini®. Users of tioLogic® TWINFIT can look forward to a patented implant system that has much to offer: not only safety and efficiency in handling, but also maximum flexibility during implant insertion, final restoration and in situations that change as the patient grows older. With the revolutionary Abutment Switch, one and the same implant has two connector geometries – conical and platform – for restorations.

Moreover, a system of depth stops offers flexibility and safety during surgical preparation. The tioLogic® TWINFIT implant system with all of its components is designed to suit a digital workflow. As a digital partner, Dentaurum Implants places value on process sequences that are efficient and easy to follow, using materials that have been validated – from scanning through to manufacture. The system offers solutions that are flexible, efficient and tailor-made for the patient.

CITO mini® is a system of one-piece mini implants that allow minimal invasive insertion in only three steps – small. quick. easy.
Products
Titanbasis Vario