<![if !IE]> <![endif]>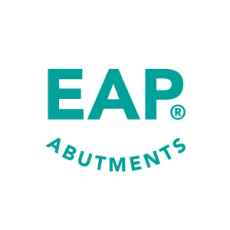 EAP(R) Produktions- und Patentverwertungs GmbH
Lorettostr. 26
6060 Hall in Tirol
Austria
List of product entries
This exhibitor shows the following products and commodity groups:

Company & products
Company
Company profile
Company portrait
EAP® Produktions- und Patentverwertungs- GmbH is a synonym for top product quality and service. Our customers are at the center of our business. Our long-standing expert knowledge in the dental, implant and periodontal industry are the driving force behind our research for new dental methods, benefitting the patient. Our know-how in chipping and additive manufacturing is outstanding. EAP® combines two gold standards in one product, offering benefits for dentists, dental technicians and patients alike. Both standards, the titanium abutment for biocompatibility and the T-base for aesthetic, are combined to form our EAP® Abutment. EAP® is defining the new gold standard for abutments. ACHIEVING OUR GOAL TOGETHER FASTER! This is true for both sides: The collaboration between dental technicians and dentist will be improved to perfection. Your work will be faster and easier and together you will reach a safer and highly aesthetic result.

Reproducing the genius of nature. Together.
Products
EAP® Abutment