<![if !IE]> <![endif]>

META BIOMED CO., LTD.
270, Osongsaengmyeong-1ro
28161 Osong-eup, Cheongju
Korea, Republic of
List of product entries
This exhibitor shows the following products and commodity groups:

Company & products
Company
Company profile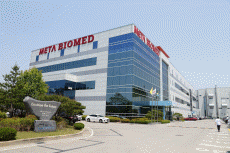 Company portrait
Since its foundation in 1990, as a manufacturer of medical devices to contribute to the development of health&medical industry, Meta Biomed has manufactured excellent products such as not only biodegradable surgical sutures but also dental products through sustained R&D and are exporting products to over 80 countries including USA and Europe.

As a result of positively focusing on R&D investment as a technology-intensive SME, since its foundation, the company could be positioned as an enterprise that is capable of manufacturing superior products being acknowledged at home and abroad including world best products and localized products being selected as the products of new technology.

In addition, in order to grow one step further as an enterprise specialized in high-tech bio-engineering, research on bone restoration material for orthopedics has been progressed as a new technology project of the next generation.

As a result of this sustained R&D effort, Meta Biomed will grow as a creative enterprise in the field of bio-engineering, and in order to achieve this objective, all our staff members are pursuing a new value creation. To fulfill social responsibility towards human life and health, all the staff members of Meta Biomed will do their respective best in order to make our company that may provide satisfaction to the society and customers while contributing to the development of the medical industry under the spirit of creativity and challenge.
Products
CeraSeal
EQ-M