NSK Europe GmbH
Elly-Beinhorn-Str. 8
65760 Eschborn
Germany
+49 6196 776060

+49 6196 7760629

List of Products
This exhibitor shows the following products and commodity groups:

Company & products
Products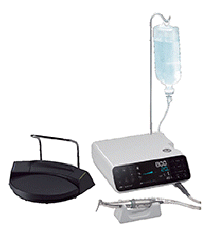 Surgic Pro2

The internationally acclaimed Surgic Pro surgical micromotor system has evolved into "Surgic Pro2". There are 3 progress points, in operation, safety and wireless extensibility. As well as further improving the basic performance of Surgic Pro, its supreme adaptability in connecting to various external devices offers improved comfort, safety and efficiency for the operator during dental treatment. Professionals demand the reliability and sense of safety in clinical practice, and we have responded with our 'next-generation performance' technology.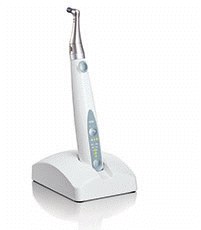 iProphy

With no foot control, the cordless iProphy from NSK gives you maximum freedom and stability for smoother polishing and greater control. Take your clinical practice to the next level by improving your performance day after day. The iProphy can be used with screw in cups and brushes using the iFX57 head. Or with disposable prophy heads using the PR-F head(optional extra).
Ti-Max Z micro Turbine

Turbine mit micro-Kopf und großen Fähigkeiten
Vor 10 Jahren stellte NSK die revolutionäre pico-Turbine als weltweit kleinste Dentalturbine vor. Mit der neuen Ti-Max Z micro Turbine wird mit einem weiteren Modell jetzt an die Erfolgsgeschichte angeknüpft. Die neue Turbine ist die Weiterentwicklung der pico Serie. Die Z micro Turbine stellt durch den 100°- Kopfwinkel sowie den im Durchmesser nur 9mm kleinen Instrumentenkopf einen perfekten Zugang auf die zu behandelnde Stelle sicher. Durch die filigrane Größe und den neuen Winkel ist das Instrument perfekt für den Einsatz an den Molaren geeignet. Auch für die Behandlung von Senioren oder Kindern bzw. Patienten mit eingeschränkter Mundöffnung, ist die Turbine sehr empfehlenswert. Trotz kleinem Kopf bietet das Instrument mit dem 4-fach Düsenspray eine optimale Kühlung und mit einem für Instrumente mit dieser Kopfgröße außerordentlichem
Drehmoment von 20 W eine Spitzenleistung. Die Turbine ist mit weniger als 40g ein Leichtgewicht, ist aus Titan gefertigt und wird mit der kratzfesten DURAGRIP Beschichtung ausgeliefert, so dass ein ergonomisches und ermüdungsfreies Behandeln möglich ist. Die eingebaute Quick-Stopp-Funktion stellt zudem sicher, dass das Instrument innerhalb von 1 Sekunde anhält, was ein großes Sicherheitsplus darstellt. Die Z micro Turbine ist ab sofort für die Turbinenkupplungen von NSK, KaVo™ und Sirona™ erhältlich und ist mit Kurzschaftbohrern bis 21mm Länge verwendbar.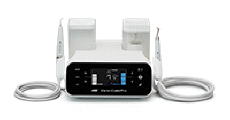 Varios Combi Pro

NSK has combined ultrasonic treatment and powder therapy into a single
professional treatment unit that streamlines procedures and saves time and space.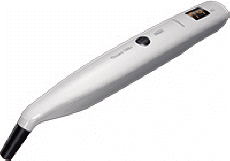 Osseo 100+ / Osseo 100

Osseo 100 measures implant stability and osseointegration to support decision on when to load an implant. Especially important when working with shorter treatment time or managing risk patients. The uncomplicated procedure that measures ISQ allows the implant loading period to be planned in advance. The reconstruction of crowns and bridges can be monitored to optimize timing to decrease the risk for failures. Measurements can be made without unnecessary impact since the equipment does not come into physical contact with the implant or abutment. The Osseointegration Monitoring Device, "Osseo 100+" can be connected using Bluetooth®, permitting ISQ confirmation over a shared interface. You can share and manage the data of those measured ISQ scores on other terminals through Surgic Pro2.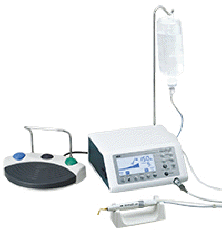 VarioSurg3

Mit dem Ultraschall-Chirurgiegerät Vario- Surg3 bietet NSK ein Chirurgiesystem, welches über eine um 50 Prozent höhere Leistung verfügt als das Vorgängermodell. In Verbindung mit der jederzeit zuschaltbaren "Burst"-Funktion, welche für einen Hammereffekt sorgt, wird dabei die Schneidleistung und Schnittgeschwindigkeit
signifi kant erhöht. Das ultraschlanke und federleichte Handstück mit LEDBeleuchtung – selbstverständlich sterilisierbar und thermo desinfizierbar – sorgt jederzeit für optimalen Zugang und beste Sicht. Lichtleistung und Kühlmittelmenge sind je nach Anwendungsbereich regulierbar, sodass in Verbindung mit einer Vielzahl an zur Verfügung stehenden Aufsätzen den Anwendungsbereichen der VarioSurg3 praktisch keine Grenzen gesetzt sind. Durch das große, hinterleuchtete Display ist der Behandler jederzeit und aus jedem Blickwinkel über die aktuellen
Behandlungs parameter informiert. Über das NSK Dynamic
Link System kann die Vario- Surg3 mit dem NSK Implantatmotor Surgic Pro zu einer kompakten, nur minimalen Raum beanspruchenden Einheit verbunden werden. Die so gekoppelten Chirurgieeinheiten lassen sich dann mit nur einer Fußsteuerung bedienen. Für den Anwender bedeutet
das NSK Link System eine hohe Flexibilität und Zukunftssicherheit, denn
für welches Chirurgiesystem auch immer er sich zunächst entscheidet: Das Ergänzungsprodukt kann zu jedem beliebigen Zeitpunkt hinzugefügt werden.

Ti-Max Z Serie

Die Ti-Max Z Serie ist das führende Instrumentenprogramm der Marke NSK. Die Winkelstücke und Turbinen dieser Instrumentenserie zeichnen sich durch vielfältige herausragende Eigenschaften aus:

Extrem kompakte Abmessungen
Die Winkelstücke der Ti-Max Z Serie verfügen über die grazilsten Dimensionen im Kopf- und Halsbereich und überzeugen mit perfektem Zugang zum Arbeitsbereich und spielendem Handling.

Kraftvolles Arbeiten
Die Turbinen der Ti-Max Z Serie überzeugen dank ihrer innovativen
Rotortechnologie mit höchster Durchzugskraft bei gleichzeitig kompakten
Kopfgrößen. Die Ti-Max Z Turbinen sind in den Versionen Z900 (Standardkopf) und Z800 (Minikopf) für den Anschluss an alle gängigen Turbinenkupplungen verfügbar und lassen damit keine Wünsche offen.

S-Max M Serie

Die Instrumentenserie besteht aus sechs Winkelstücken, einem Handstück und einer Vielzahl an Turbinen. Die Turbinen sind für jeden gängigen
Kupplungsanschluss sowie jeweils in zwei unterschiedlichen Kopfgrößen
erhältlich. Die neue Generation der S-Max Instrumente ist ebenso wie die
Vorgängergeneration aus reinem Edelstahl gefertigt. Äußerlich überzeugen die SMax Instrumente mit einem puristischen, klaren Design.

Ti-Max Z45L Winkelstück mit 45°-Kopf

Als weltweit erstes 45-Grad-Winkelstück erleichtert Ti-Max Z45L signifikant den Zugang zu schwer erreichbaren molaren oder anderen Mundregionen, in denen ein Standard-Winkelstück an seine Grenzen gelangt. Durch seine schlanke Formgebung bietet Ti-Max Z45L ausgezeichnete Sicht und großen Behandlungsfreiraum, da es mehr Raum zwischen dem Instrument und den benachbarten Zähnen lässt. Die kräftige, gleichbleibende Schneidleistung des Ti-Max Z45L verkürzt im Vergleich zu Standard-Winkelstücken die Behandlungszeiten beim zeitaufwendigen Sektionieren oder bei der Extraktion von Weisheitszähnen, wodurch Stress sowohl für den Behandler als auch für den Patienten spürbar verringert wird. Zudem verfügt Ti-Max Z45L über die weltweit erste Zwei-Wege-Sprayfunktion. Dabei kann der Anwender den Spraytyp selbst definieren und mittels eines im Lieferumfang enthaltenen Schlüssels entweder Spraynebel (Wasser/Luft-Gemisch) oder einen Wasserstrahl zur Kühlung der Präparation auswählen. Ti-Max Z45L eignet sich somit für zahlreiche Behandlungsverfahren wie zum Beispiel auch die Weisheitszahn-Präparation oder die Eröffnung der Pulpenkammer.

Wie alle Instrumente der Ti-Max Z Serie ist das Z45L ein Titan-Instrument und verfügt über das von NSK patentierte Clean-Head-System und das NSK Anti-Erhitzungssystem, welches die Wärmeerzeugung im Instrumentenkopf verringert sowie einen Mikrofilter für das Spraysystem.

<![if !IE]> <![endif]>