<![if !IE]> <![endif]>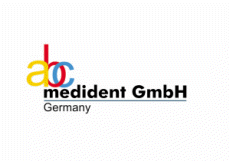 Abc-Medident GmbH
Karl-Friedrich-Klees-Str. 6
40476 Düsseldorf
Germany
List of product entries
This exhibitor shows the following products and commodity groups:

Company & products
Company & products
Company & products
Company portrait
The abc-medident GmbH was founded in 2018, which has made it its mission to equip doctors and practices worldwide with utensils. The focus will initially be on dental practices.

Due to the different partners we have a lot of expertise in different areas.

Our main markets will be the markets in the Middle East, India and the European market.

Through the founders, the company draws on 100 years of experience in the field of medical supplies. This allows us to compete with well-known, international manufacturers, guarantee good quality and at the same time offer our products at fair prices.

In order to be able to offer the products "made in Germany", we will carry out larger parts of the production in Germany. A small part of the production of our products will be made in South Korea and China, at a factory that also produces for well-known, international manufacturers.

abc-medident GmbH is looking forward to becoming your reliable partner.