<![if !IE]> <![endif]>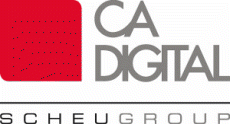 CA DIGITAL GmbH
Walder Str. 53
40724 Hilden
Germany
List of product entries
This exhibitor shows the following products and commodity groups:

Company & products
Company
Company profile
Company portrait
CA DIGITAL_PRECISION MADE IN GERMANY
The future of orthodontics lies in digitization. Digital planning makes processes and therapies
significantly more precise and in turn leads to improved efficiency and greater market opportunities.
The result: satisfied patients. SCHEU-DENTAL GmbH, a leading German-based manufacturer of
medical technology products that looks back on a long tradition, understood the importance of this
potential well in advance and thus founded CA DIGITAL GmbH in 2011 with the aim of serving the
growing demand for digital treatment methods. In the meantime, CA DIGITAL has already become
one of the leading providers on the market for digital orthodontics.
CA DIGITAL GmbH offers comprehensive digital treatment solutions that facilitate a wide range
of applications within an unique open system. Thanks to our patented 3D CAD/CAM software
and innovative treatment solutions, it is possible to map all processes and products required in
orthodontics. True to the claim "One scan – all possibilities",
CA DIGITAL has positioned itself as a digital pioneer thus integrating all treatment methods into a
standardized digital workflow.
Products
MEMOTAIN® 2.0
CA® PROFESSIONAL