<![if !IE]> <![endif]>

HORICO- Hopf, Ringleb & Co. GmbH & Cie.
Gardeschützenweg 82
12203 Berlin
Germany
+49 308300030

+49 30 8332995

List of product entries
This exhibitor shows the following products and commodity groups:

Company & products
Company
Company profile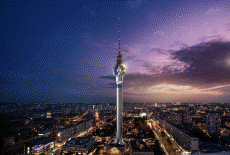 Company portrait
Deeply in love with accuracy

What do you think when you hear the word "precision"? The word is somewhat abstract, some find it boring. We at HORICO think it's just great. We are precision freaks, accuracy nerds, our miles are microns. You as a dentist or dental technician know this, you have precision at your fingertips. Because what patient wants to have an ill-fitting crown in their mouth? Exactly. With our precision instruments you can rely on a result that looks exactly as you want it to.

Realiable instruments for a relaxed smile

We have been manufacturing rotary instruments and separating strips with passion and tenacity for 103 years. HORICO has been a medium-sized family business for four generations. It all began in 1918 with the chief engineer Paul Hopf (of whom, by the way, there is not a single smiling photo - with great accuracy he showed the same facial expression in every photo, a very common practice at this time: serious and highly concentrated at work). Freshly returned from World War I, he was annoyed by crumbly sand from the sandpaper in his mouth when he visited the dentist. And thought to himself, "There has to be a better way." With great care, he invented the first electroplated separating strip and meticulously supervised its production in Berlin. This was followed by the production of diamond burs, and later by carbide instruments. Four generations later, you can still find the bosses of HORICO often in the quality control department, where they convince themselves of the quality of the diamond grain.

The extension of your fingertips: the Horico bur

Our target is the perfect tool. At the end of our production process, every single product is microscopically inspected by a quality expert. What you can also expect from us: Variety of shapes, durability and speed, in short: safety Made in Germany.

Precisely: We are happy to welcome you at IDS 2021: Hall 10.2, Stand M008.
Products
Separating strips
Diamond burs
Tungsten Carbide Burs
Polishers
Tungsten Carbide Cutters
Diamond discs
Veranstaltungen
Events
Date
Speaker

HORICO- Hopf, Ringleb & Co. GmbH & Cie.

products and applications in everyday practice


22.09.2021 | 9:40 a.m.-9:50 a.m.

more