<![if !IE]> <![endif]>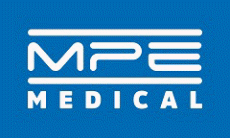 MPE Medical GmbH
Rodenkirchener Str. 200
50389 Wesseling
Germany
List of product entries
This exhibitor shows the following products and commodity groups:

Company & products
Company & products
Company & products
Unternehmensportrait
Die MPE Medical GmbH ist ein Vertrieb für Medizinprodukte mit Hauptaugenmerk auf den Dentalbereich. Gegründet wurde diese im Jahr 2010 von Oliver Engel, der als Geschäftsführer tätig ist. Herr Engel selber ist seit fast 30 Jahren im medizinischen Business tätig und verfügt dementsprechend über hervorragende Kontakte.

Der Betrieb ist ein inhabergeführtes Unternehmen, welches sich durch die enge Kundenbindung, den schnellen Service und die bestmögliche Beratung auszeichnet.

Die MPE ist mit Sitz Wesseling - eine Stadt zwischen Köln und Bonn - anzutreffen, vier Mitarbeiter kümmern sich um die Belange der Kunden und Geschäftspartner. Seit 2017 betreut die MPE in Deutschland die Firma Support Design, welche innovative und hochwertige Praxismöbel anbietet. Darüber hinaus ist sie Fachhandelspartner von W&H und hat sich auf den Vertrieb von hochwertigen chirurgischen Produkten für die Kieferchirurgie spezialisiert. Auch während der Covid-19 Pandemie hat sich die MPE Medical dank ihres guten Netzwerks als verlässlicher Partner für seine Kunden präsentiert und in schwierigen Zeiten die notwendigen Produkte beschafft.