<![if !IE]> <![endif]>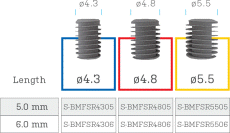 Short implants are considered as an alternative treatment to advanced surgical interventions in case of
insufficient bone height, either above the mandibular canal or below the maxillary sinuses and aim to regenerate
hard tissues.
Due to the aggressive thread design, Bone level short implants can preferably be used in the maxilla where the
alveolar bone is relatively soft.

Rue de la Mercerie 12
1003 Lausanne
Switzerland