<![if !IE]> <![endif]>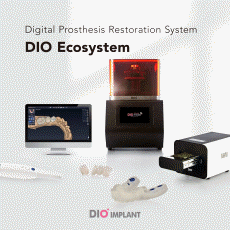 Experience the Extraordinary Everyday!
Full Digital Solution

[DIO Ecosystem]

'DIO Ecosystem' is an optimal full digital prosthetic solution developed in a completely new design by combining digital big data and artificial intelligence (AI) technologies.

The hardware and software of 'DIO Ecosystem' deliver the most efficient, reasonable, faster, and more precise prosthesis.

From scanning, designing to fabrication, the entire workflow can be done in the clinic to fabricate surgical guide and prosthesis. DIO Ecosystem is set to become the must-have
solution for digital dentistry.

Centumseo-ro 66
48058 Haeundae-gu, Busan
Korea, Republic of
+82 517457738

+82 517457778