<![if !IE]> <![endif]>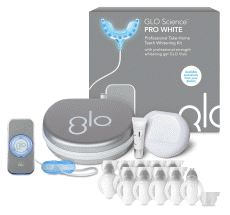 GLO Science PRO Home is the innovative and award-winning teeth whitening set with LED technology for home. The set contains everything the patient needs for safe and effective teeth whitening. Treatment in the practice and the production of individual splints are no longer necessary. Patient and dentist benefit from a high time saving.
4 applications of 8 minutes each are carried out on 5 consecutive days. The vegan bleaching gel with 6% hydrogen peroxide is in resealable ampoules. Using an innovative brush tip, the gel can be easily applied to the teeth without running. A neutral pH value during the bleaching process prevents any sensitivity. An LED lamp is integrated into the patented mouthpiece, which enables the bleaching gel to act more intensively but is gentle on the teeth. The effectiveness of the whitening process is 5 times higher than in applications without a lamp. The result is up to 5 levels of whiter teeth!

Johanneswerkstr. 3
33611 Bielefeld
Germany