<![if !IE]> <![endif]>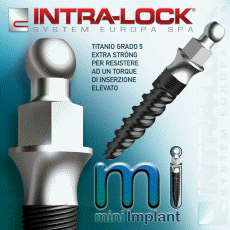 MI Mini Implant
The Mini Implants of Intra-Lock System Europa have been designed for the anatomical and physiological needs of the stabilization of the
mandibular and maxillary prosthesis, as well as for the rehabilitation of lateral agenesis, thanks to the use of cementable abutments.
The abutments fit perfectly into the square base that supports the O-Ball, transforming the implant for use from a mobile to a fixed prosthesis.

Via Ottavio Bottigliero 1
84126 SALERNO (SA)
Italy