<![if !IE]> <![endif]>
With a complete range of 2D and 3D examination options for dentistry, GiANO HR offers specific multiple volumetric examinations for maxillofacial surgery, otorhinolaryngology and cervical spine examinations.

The direct conversion sensor can raise the bar of the already very high imaging quality of GiANO HR even

further. Unlike traditional sensors, the Cadmium Telloride (Cd-Te) Direct Conversion Detector does not require the conversion of X-rays into visible light – as it is capable of sensing it directly and converting it into precise, accurate digital signals.

In this way, extremely high resolution 2D diagnostic images can be obtained at low X-rays doses, and highly detailed images can be produced even where quick scans in ECO Dose are more indicated.

3D volumes with FOV from 4 x 4 cm and 16 x 18 cm and resolution up to 68 μm, the highest available on the market, allow to assess maxillary sinuses, frontal sinuses, temporomandibular joints, airways, the internal ear and the cervical spine.

Superior quality imaging with dedicated protocols for the various applications, such as FOV 7 x 6 cm, which is ideal to examine the internal ear, or FOV 9 x 16 cm and 9 x 9 cm, specially studied for cervical spine examinations.

The user-friendly interface of the wide 10" on-board touch screen control panel enhances functional efficiency and makes the most of GiANO HR features.

The Multimedia Pack includes a camera and an intercom allowing constant monitoring of the patient in real time from a remote PC; in addition, the FOV Vision Pack option adds a second camera to align and select the most suitable.

NNT is NewTom's software that provides several dedicated application modes specifically intended for

implantology, endodontics, periodontics, maxillofacial surgery and radiology. It is a powerful technologically cutting edge device designed to acquire and process images in a few simple steps to obtain the information required for specific detailed patient diagnosis.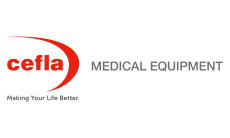 Via Selice Provinciale 23/A
40026 IMOLA (BO)
Italy