<![if !IE]> <![endif]>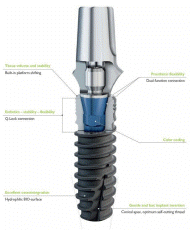 • Tissue volume and stability
• Prosthetic flexibility
• Excellent osseointegration
• High-strength implant-abutment connection

The LASAK BioniQ implant system comprises BioniQ implants inserted at the level of the bone and BioniQ Plus implants allowing insertion at the level of soft tissues. In both cases, they start from a diameter as small as 2.9 mm. All implants are fitted with a unique hydrophilic BIO-surface proven by more than nineteen years of clinical use. The BioniQ implant system is available in conical Tapered and cylindrical Straight versions. The combination of a deep cone, solid hexagon and reinforcing cylinder ensures maximum strength of the implant-abutment connection. The horizontal and vertical set-off of the implant-abutment connection from the bone level, together with the implant mini-threads, contribute to the stability of the marginal bone and soft tissues surrounding the implant.

Ceskobrodska 1047/46
190 01 Prague 9 - Hloubetin
Czech Republic
+420 224315663

+420 224 319716