<![if !IE]> <![endif]>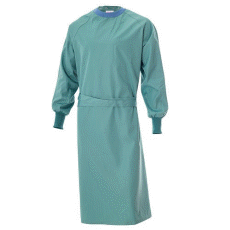 The Europa surgical gown from LASAK is a reusable medical protective clothing for hospitals and clinics. The gown is straight-cut and waterproof. It is lightweight and breathable, and comfortable even during high-temperature work. Its sleeves and collar have seamless, elastic cuffs. These elastic cuffs fit snugly around your wrist to protect your arms and eliminate the risk of harmful substances entering through the sleeve. The medical gown has permanent antistatic properties (according to standard EN 1149-3). It is certified under EN 13795 (clothing for clean rooms and operating theatres) and EN 14126 Cat. III (protective clothing against biological particles).

These gowns are environmentally friendly and manufactured in Europe.

Ceskobrodska 1047/46
190 01 Prague 9 - Hloubetin
Czech Republic
+420 224315663

+420 224 319716