<![if !IE]> <![endif]>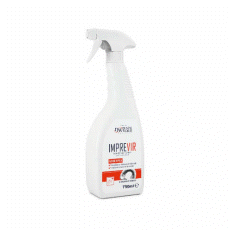 Imprevir is a ready-to-use spray disinfectant intended for the rapid, effective and broad-spectrum disinfection of dental impressions contaminated with potentially infected biological material, such as blood and saliva. It can be sprayed on medical devices made of silicone, alginate, polyester rubber, etc. and does not alter their shape, keeping them stable and similar to plasters.
Action spectrum:

Microbactericide (intermediate level)

Dilution:
Ready-to-use solution

Contact time:

30 min

30% alcohol mixture (ethyl and isopropyl alcohol); o-phenylphenol; cationic surfactants; non-ionic surfactants; sequestering agents and purified water to the nearest 100 g.

750 ml bottle;
5 litre jerry can.

Via Antichi Pastifici 15
70056 MOLFETTA (BA)
Italy
+39 0803381004

+39 080 3386617