<![if !IE]> <![endif]>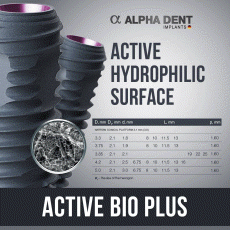 Active Bio Plus is a conical-shaped implant with a helical aggressive thread. It is used under one- or two-steps procedure in all bone types. It prevents bone injuries and enlarges the area of direct contact of the implant surface with the bone that speeds up the process of osseointegration . Due to a formation of a new bone around the triangular part and enhanced antirotation effect, the best conditions for early rehabilitation are provided when the implant is used.

Active Bio Plus is highly suitable for areas with soft bone tissue as its size and surface allow achieving good primary stability in such areas. Important body shape matches the shape of conical drills perfectly.

Hanauer Str. 8
75181 Pforzheim
Germany