<![if !IE]> <![endif]>

Mectron S.P.A.
Via Loreto 15/A
16042 CARASCO (GE)
Italy
+39 0185353683

+39 0185 351374

List of product entries
This exhibitor shows the following products and commodity groups:

Company & products
Company
Company profile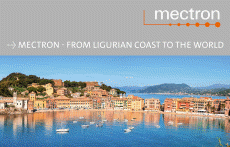 Company portrait
MECTRON has always stood out on the market for its continuous process of development and innovation and the excellent design of its products.

Thanks to these qualities and to a sales network covering over eighty countries, MECTRON has earned itself a position of great prestige on International markets.

The MECTRON range now consists of the following:

PIEZOSURGERY®: the original piezoelectric surgical device specifically designed for a wide variety of clinical applications.

Piezoelectric scalers: both multi-purpose table-top versions with its own water supply and an extremely compact version for connection to the water supply.

Air-polishers for supra and subgingival use: table-top unit and quick-fitting polishers for connection to a turbine, plus a special device for prophylactic treatment that combines a piezoelectric scaler and a jet polisher.

LED curing lamps: available different cordless versions and two versions for dental units.
Products
Combi touch - The all in one in prophylaxis
Starjet – turbine-adapted handheld air-polisher
Starlight pro - Lightweight, powerful, versatile
PIEZOSURGERY® touch
PIEZOSURGERY® white
Multipiezo touch – a benchmark in the field of ultrasound scalers.
REX PiezoImplant
Veranstaltungen
Events
Date
Speaker

Mectron S.P.A.

products and applications in everyday practice


22.09.2021 | 10:00 a.m.-10:15 a.m.

more