<![if !IE]> <![endif]>

PISTIS Corporation
706 J-Tower 330 yeomjeon-ro, michuhol-gu
22126 Incheon
Korea, Republic of
+82 1064021343

+82 322323833

List of product entries
This exhibitor shows the following products and commodity groups:

Company & products
Company
Company profile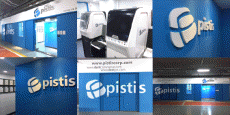 Unternehmensportrait
Pistis Co., Ltd. ist ein Unternehmen, das CAD/CAM-Fräs-M/C sowie Programme und Dienstleistungen im Dentalbereich entwirft, entwickelt und betreibt. Basierend auf jahrelanger Erfahrung in der Entwicklung und Herstellung von medizinischen Werkzeugmaschinen produzieren wir die besten technologieintensiven Produkte.Wir glauben, dass Vertrauen die besten Werte sind und wir wollen die beste Win-Win-Partnerschaft mit unseren Partnern und Kunden erreichen .
Unser Ziel und unsere Mission ist es, über die bisherige Technologie hinaus eine "All-in-One-Lösung" anzubieten. Es minimiert Ineffizienzen durch Konsolidierung der Arbeit durch konvergierende Technologien, die voneinander getrennt sinnt sind. Dies führt zu Benutzerfreundlichkeit und Arbeitsversserung, Zeitersparnis und Maximierung der Arbeitsleistung.
Ein hohes Verständnis für Ausrüstung, Technologie und reiche Erfahrung werden zur Vertrauensbasis für den stabilen Betrieb Ihres Unternehmens, und wir versprechen, ein hervorragendes technisches Umfeld und ein hervorendes technisches Umfeld und ein hervorragendes technisches Umfeld und ein hervorendes sür.
Products
pistis
PM5
PS5 - Exclusive
PM5
PS5
dentcommerce
dentpis
Milling Machine
pistis CAD/CAM Milling Machine
pistis
Veranstaltungen
Events
Date
Speaker

PISTIS Corporation

products and applications in everyday practice


22.09.2021 | 2:25 p.m.-2:35 p.m.

more