<![if !IE]> <![endif]>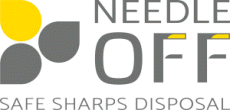 Sharpfield Company B.V.
Westplein 6
3016 BM ROTTERDAM
Netherlands
List of product entries
This exhibitor shows the following products and commodity groups:

Company & products
Company
Company profile
Company portrait
NeedleOff is passionate about safety in clinical workplaces, with a focus on safe sharps handling. Years of hands-on clinical experience is incorporated in products offering high quality, universal and intuitive solutions to sharps-related risks.

NeedleOff safely removes any contaminated threaded needle from a dental anesthetic syringe and deposits it in the integrated Sharptainer. The portable and intuitive NeedleOff device works with any threaded dentistry syringe. Designed to be used with only a single hand, the contaminated needle is inserted by the practitioner immediately after the final injection. NeedleOff locks the needle and automatically twists it off the syringe. After confirmed syringe retraction, the contaminated needle is dropped into the integrated Sharptainer for disposal.
Products
NeedleOff Starterkit
NeedleOff Sharptainer 4-Pack
NeedleOff Gripper Cassette