<![if !IE]> <![endif]>

Biotec Srl - BTK
Via Industria 53
36031 DUEVILLE (VI)
Italy
List of product entries
This exhibitor shows the following products and commodity groups:

Company & products
Company
Company profile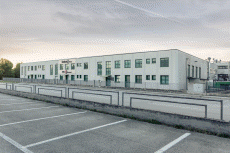 Company portrait
Unsere Mission ist, durch die Kombination von beste Technologien und Biologie, für jede Implantatlösung eine zugängliche und personalisierte Auswahl anzubieten, um das tägliche Leben der Patienten nachhaltig zu verbessern. Zusammen mit führenden Kiefer- und Gesichtschirurgen, wollen wir eine Referenz auf dem Gebiet der Implantologie werden und zuverlässige Produkte zur Verbesserung der Mundgesundheit auf der ganzen Welt anbieten.
Products
IUXTA-3D, THE NEW DIGITAL PROTOCOL: CUSTOMIZED TITANIUM IMPLANTS, MADE TO MEASURE FOR PATIENTS.
IMPLANT LINES Wide choice of implants from single tooth to large atrophy
Kit Bt Screw