<![if !IE]> <![endif]>

DiaDent Group International
16, Osongsaengmyeong 4-Ro, Osong-Eup Heungdeok-Gu 16
28161 Cheongju-Si
Korea, Republic of
+82 432662315

+82 432628658

List of product entries
This exhibitor shows the following products and commodity groups:

Company & products
Company
Company profile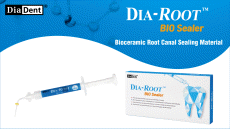 Company portrait
DiaDent Group International
Passion for Innovation

DiaDent has been one of the leading Endodontic supply companies in the dental industry since 1985. For more than 35 years, DiaDent has been dedicated to making a better and high-quality dental products through our passion for Innovation and leads the global market in high-advanced Endodontic items manufacturing and supplying.

From its inception as exporting Gutta Percha Points and Paper Points, DiaDent has grown to become a global leader, specializing in Endodontic devices and materials. DiaDent's innovative and reliable items, services and processes are recognized as the world's brand, today DiaDent has been exporting them to over 900 dealers in 129 countries all around the globe. DiaDent is taking the world in different systems with the highest standards so that DiaDent can more effectively contribute to create new markets and continue to make a responsible approach to the global business. All of DiaDent's products are inspected by a strict Quality Management System following the ISO 13485 standard.

Always striving to be better and innovative, DiaDent puts in its utmost efforts to strengthen the R&D part to develop brand-new dental devices and items. Our products from DiaDent's R&D part lead us to the global market in high-tech dental
manufacturing. Through innovative, reliable products and services and a responsible approach to the business and collaboration with our partners and customers, DiaDent will continue to see every challenge as an opportunity and we will do the best to be perfectly positioned as one of the world's recognized leaders in the dental industry.
Products
GUTTA PERCHA POINTS
DIA-PROSEAL
DIA-ROOT BIO SEALER
DIA-ROOT BIO MTA
D-LUX+
Dia-Duo
DIAFIL
DIAFIL FLOW
DIA-X FILE
PAPER POINTS