<![if !IE]> <![endif]>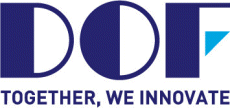 DOF Inc. Degree of Freedom Inc.
601-602, 77 Seongsuil-ro,
04790 Seoul
Korea, Republic of
+82 7050573518

+82 30334401827

DOF leads the transition of dental clinics and laboratories into digital dentistry.
Company portrait
DOF is a CAD/CAM solution company to develop 3D dental scanners and dental milling machines.
Products
Product groups
Press realeses
Documents
Product sector
Product emphasis