<![if !IE]> <![endif]>

MELAG Medizintechnik GmbH & Co. KG
Geneststr. 6 - 10
10829 Berlin
Germany
+49 307579110

+49 30 75791199

List of product entries
This exhibitor shows the following products and commodity groups:

Company & products
Company
Company profile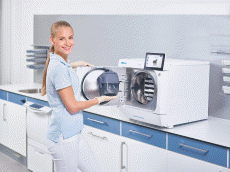 Company portrait
Together we turn your ideas of an optimal reprocessing workflow into reality!
MELAG was founded in 1951 and is an owner-operated family company, that specializes in products aiming at optimized practice hygiene:
✓ Cleaning & disinfection with MELAtherm
✓ Packaging with MELAseal and MELAstore
✓ Sterilization with Vacuklav
✓ Documentation and approval with MELAtrace
You want to save even more time, money and space? Then rethink everything you know about instrument reprocessing. Because in nine years of intensive research and development, we have brought together what belongs together. Careclave combines the entire workflow in just one device for maximum safety and efficiency.
Products
Careclave
MELAtherm 10 Evolution
Vacuklav 40 B+ Evolution