<![if !IE]> <![endif]>

Rapid Shape GmbH
Römerstr. 21
71296 Heimsheim
Germany
+49 7033 3098780

+49 7033 30987840

List of product entries
This exhibitor shows the following products and commodity groups:

Company & products
Company
Company profile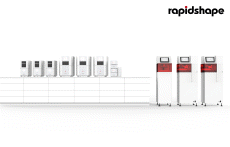 Company portrait
Rapid Shape is a German company specializing in the development and production of high-quality systems for additive printing processes. Rapid Shape has positioned itself as a leader in 3D printing, setting new standards in speed, reliability and precision based on its patented technology. Rapid Shape provides solutions for industrial markets, dentistry, hearing aids and jewelry. Precision, quality and collaboration with distribution, material and technology partners to develop industry-specific products set the company apart from its competitors. For more information, please visit: www.rapidshape.de
Products
Products
D10+ The fast, easy and clean 3D printing solution of dental products for daily use in dental offices.
D20+ The most economic professional 3D printing solution for dental labs.
D30+ Fast, flexible and semiautomated: The workhorse for professional labs.
RS wash Perfect finish for dental products from the printer: automatic and environmentally-friendly cleaning.
RS cure Safety and speed throughout the entire production process: 360° curing with certified programs.
Veranstaltungen
Events
Date
Speaker

Rapid Shape GmbH

innovative products/technologies 2


22.09.2021 | 10:30 a.m.-10:50 a.m.

more