<![if !IE]> <![endif]>

Tekne Dental s.r.l.
Via di Pescinale 77
50041 CALENZANO (FI)
Italy
+39 0558825741

+39 055 8825764

List of product entries
This exhibitor shows the following products and commodity groups:

Company & products
Products
SONOSURGERY AIR SURGICAL UNIT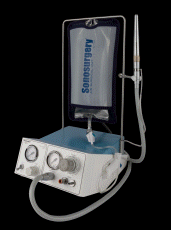 With the new AIR SURGICAL UNIT it is now possible to easily drive and control a SONOSURGERY® AIR POWER sonic handpiece.
The unit is completely pneumatic and is equipped with a special pressure bag for liquid irrigation, which is automatically and continuously inflated at low pressure. The sterile irrigation is pushed into the handpiece by means of the special STERIL rapid coupling with external inlet.
Both liquid flow and handpiece air pressure supply can be easily adjusted by specific commands on the front panel.  A special foot pedal allows to activate the handpiece vibrations and the flow of sterile liquid simultaneously, so as to free the hands of the surgeon.  The unit is also provided with a detachable 4-hole silicone hose.
The unit, in combination with the SONOSURGERY® handpiece and a range of specific sonic inserts, is suitable for general oral surgery: bone block harvesting, cyst excision, preparation of implant sites, extractions of impacted teeth, maxillary sinus lift by crestal or lateral access, corticotomy, osteotomy and osteoplasty, etc…
TITANUS ELED & TITANUS SLED SCALERS
ELECTRIC MICROMOTOR FOR ENDODONTIA WORKS