<![if !IE]> <![endif]>
VDE Prüf- und Zertifizierungs- institut GmbH
Merianstr. 28
63069 Offenbach
Germany
List of product entries
This exhibitor shows the following products and commodity groups:

Company & products
Company
Company profile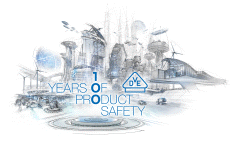 Company portrait
The VDE mark is a worldwide symbol for safety and quality in electrical devices, components and systems.

Since 1920, the Association for Electrical, Electronic and Information Technology has issued the VDE mark to give consumers, manufacturers and installers the possibility to identify safe products that meet national and international standards along with legal directives. Our experts annually subject more than 100,000
electrical components, devices and systems to comprehensive and neutral testing. They are tested for safety, electromagnetic compatibility and additional product characteristics. We possess worldwide know-how thanks to our decades of experience. We follow technical developments very closely and contribute our
experiences to the standardization process. All services are available at the VDE Institute from one source, experts that are profoundly knowledgeable in the world of standards and in technical developments. We always continually train our experts and improve our testing and measuring equipment to stay up to date with the latest technology, discover new trends and expand our range of services for you.
The VDE Institute's testing and certification expertise is attested by accreditation from the German Accreditation Body along with recognition and notification by other bodies. The countries' central authority has authorized us to issue the mark for Tested Safety (GS) according to the Product Safety Law. The VDE Institute is notified under registration no. 0366 for the European Union's internal market within the framework of applicable EU directives. We are a recognized certification body at the IECEE.
Products
Testing and Certification of Medical Technology
Regulatory Affairs
Veranstaltungen
Events
Date
Speaker

VDE Prüf- und Zertifizierungs- institut GmbH

Live @Cologne


23.09.2021 | 12:20 p.m.-12:40 p.m.

more


VDE Prüf- und Zertifizierungs- institut GmbH

Live @Cologne


22.09.2021 | 12:20 p.m.-12:40 p.m.