<![if !IE]> <![endif]>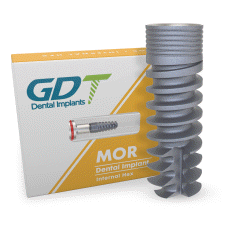 # Connection: Internal Hex 2.42mm

# Implant Diameters: Ø3.5mm, Ø3.75mm, Ø4.2mm, Ø5.0mm, Ø6.0mm

# Implant Length: 6.0mm, 8.0mm, 10.0mm, 11.5mm, 13.0mm and 16.0mm

# Condition: Sterilized, Double Packaging

# Material: Titanium grade 5 (TI-6AL-4V ELI)

# Certificates: CE Approved, ISO (9001:2008), MEDICAL ISO (13485:2003), FDA Approved

# Country of Manufacture: Israel

 

GDT implants are made of Titanium alloy Ti-6Al-4V ELI. This material combines properties such as low specific weight, high strength to weight ratio, very high corrosion resistance, and excellent general biocompatibility.

Ti-6Al-4V ELI is very similar to Ti-6Al-4V, except that Ti-6Al-4V ELI contains reduced levels of oxygen, nitrogen, carbon, and iron. ELI is short for "Extra Low Interstitials", and these lower interstitials provide improved ductility and better fracture toughness for the material.

Ti-6Al-4V ELI has proven to be highly successful in the fabrication of dental implants

SLA Surface Treatment Technology:

SLA is a type of surface treatment that creates surface roughness intending to enhance osseointegration through greater bone-to-implant contact (BIC).

SLA surface treatment technology is based on a large-grit sandblasting technique that generates a macro-roughness on the titanium surface, This technique is followed by acid-etching that superposes a micro-roughness, This topography offers an excellent structure for cell attachment.

SLA surface treatment increases the rate at which osseointegration occurs by using a combination of grit and acid etching to give the surface increased roughness on multiple levels. This allows osteoblasts to proliferate and adhere to the implant surface. Through osseointegration, SLA helps provide increased stability to the implant which will ultimately lengthen its longevity.
M Tower, Recha Freier 9
8489300 Beer Sheva
Israel