<![if !IE]> <![endif]>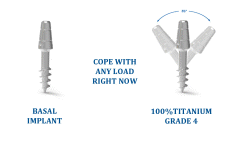 The surface cleaning of Basal implants is performed through a plasma treatment.The specialised Italian company , Nobil Bioricerche, with a valuable experience in surface treatments , studied and developed the specifics of the treatment for the removal of adherent endotoxin.The effectiveness of the treatment has been verified by countless lab studies, clinical studies and milions of implants used clinically.
Basal line implants can be used as a post-extractive solution in all types of bone , in both upper and lower jaws, also in case of bone atrophy.Their morphology is designed to allow the engagement of the second cortex. Basal li ne implants are indicated for immediate loading technique and can be placed in combination with the Compressive line implants and two-stage implants.

str. Zaltorvruh No 71 Office B
1164 Sofia
Bulgaria