<![if !IE]> <![endif]>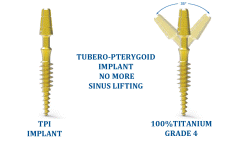 The surface cleaning of TPI implants is performed through a plasma treatment. The specialised Italian company, Nobil Bioricerche , with a valuble exprerience in surface treatments, studied and developed the specificts of the treatment for the removal of adherent endotoxin. The effectiveness of the treatment has been verified by countless lab studies, clinical studies and milions of implants used clinically.
TPI - Tubero-Pterygoid implant line is indicated for the distal maxillary area and premolar area when there is enough healthy bone.
TPI implants can be used also in lower jaw as post-extractive implants.

str. Zaltorvruh No 71 Office B
1164 Sofia
Bulgaria