<![if !IE]> <![endif]>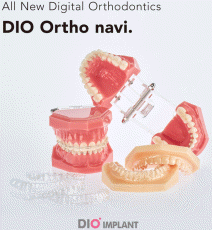 The rapid digitization of the orthodontics field is opening up a
new paradigm.

Riding this market trend, we developed the world's first 3D
Printed Lingual Brackets. Our digital orthodontics solution uses
two strands of Ni-Ti wire to the bracket, shortening the treatment
period as well as offering more sophisticated level of treatment.

Then we went on to introduce digital clear aligners, DIO Ortho
navi. Clear Aligners, completing digital orthodontics solution lineup along with our 3D printed brackets.

Our digital clear aligners employ the C-Force system, which utilizes
biological tooth movement and dental bone reconstruction, rather
than a traditional dental setup method. This method enables
faster and more effective corrective treatment and provides a
comfortable care environment for practitioners and patients.

We will continue to discover new dental applications for the
latest technology and your trust bestowed on DIO.

Centumseo-ro 66
48058 Haeundae-gu, Busan
Korea, Republic of
+82 517457738

+82 517457778