<![if !IE]> <![endif]>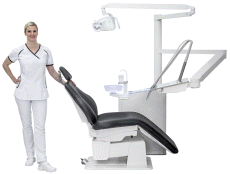 Heka S+ - designed for your needs
We strive to create security and comfort for you, your team and your patients. This is all reflected in our design, where
the clinical aspect is more muted by creating a stylish piece of furniture. This is evident in the design of the Heka S+ with its clean lines and glass surfaces featuring an integrated display.

Every Heka dental care unit is individually manufactured to suit you and your team's unique preferences and requirements. This gives you optimal opportunity for simple and ergonomic work, where the Heka S+ guides you through treatments - both automatically and individually.

The Heka S+ comes with a range of programmable personalised settings that support your various treatments and processes throughout the working day, so that they are carried out simply and with minimal strain on you and your team.

The narrow design of the delivery tray is one of the most important prerequisites for achieving the most ergonomic working positions around the patient without unnecessary lifting of the elbow and shoulders.

The balance suspension is a key element in supporting an ergonomic workflow. Each instrument is individually calibrated, where the spring accurately neutralises the weight of the instrument at the patient's mouth - without pulling back.

This helps the Heka S+ to carry the instrument without impeding your freedom of movement. As a result, you can work
with high precision, with minimal strain on your wrist and forearm.

Prioritising top hygiene - together with you
We have designed the Heka S+ with a focus on enabling you and your team to meet the highest infection control standards using individual manual and automated processes that can subsequently document whether they have been completed satisfactorily. In terms of hygiene, this creates peace of mind for your entire team and your patients, while avoiding unnecessary time wasting.

Baldershoj 38
2635 Ishoj
Denmark