<![if !IE]> <![endif]>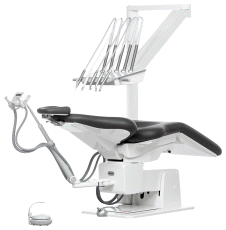 The UnicLine S Pillar Unit is designed as minimalist as possible, with no unnecessary connections or other disruptive elements. The chair and suction are connected to the elegant floor box and, if desired, the suction arm can be installed away from the unit and the patients chair - for instance in a dental cabinet behind the head rest.

The base is available in two versions:
A low base where the electronics for the pillar unit are placed in a separate box, which can be placed away from the unit - e.g. in a closet or wall-hung. If there is no desire or possibility for a separate box with electronics and connections, the UnicLine S Pillar Unit can also be delivered with a slightly higher base which contains everything needed.

Delivery system:
The delivery system is almost minimalist and there is no super fluous technology, or unnecessary information. The thin, narrow design of the delivery system is a prerequisite for achieving optimal ergonomic working conditions around the patient.

Balanced Instruments:
With the balanced suspension, the instruments are individually balanced and the long silicone hoses provide  ergonomically correct working possibilities. The instruments are individually balanced so that your hand does not have to carry the instrument's weight or experience external forces when performing your precision work.
Balanced unit instruments reduce fatigue and increases the precision of the work.

UnicLine S Pillar requires very little space and is therefore very suitable for smaller clinic rooms.

Like all Heka Dental's other products, UnicLine S Pillar is manufactured in Denmark.

Baldershoj 38
2635 Ishoj
Denmark