<![if !IE]> <![endif]>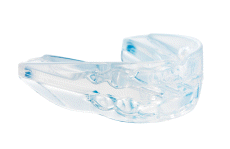 Silicone activator and aligner
LM-Activator™ is an anatomically designed activator and aligner for orthodontic treatment. It aligns teeth and activates mandibular growth (i.e. brings the mandible forward for Class II correction) and can simultaneously increase the dental arch length to correct or avoid crowding. LM-Activator™ supports healthy growth of teeth and jaws in a gentle way.

LM-Activator™ effectively corrects different malocclusions; overjet, overbite, deepbite, open bite, crowding, class II, and dental anterior crossbite i.e. inverted incisors. Sagittal and vertical relationships can be corrected simultaneously.

LM-Activator™ is removable and mainly used during the night. It is made of flexible and comfortable clear medical grade silicone and is fully biocompatible and additive free.

Benzstr. 1
51381 Leverkusen
Germany
+49 2171706670

+49 2171 706666