<![if !IE]> <![endif]>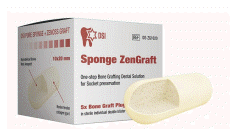 NEW! Introducing the Full Bovine version – DSI Sponge ZenGraft – impregnated with Zenos XenoGraft bone particles

Collagen Plugs
Impregnated with Bone Graft
Boxed in 5 units, 10x20mm sterile plug in each.

A simple alternative to your typical allograft and membrane technique to repair a defect, with no risk of membrane dislodgement or particulate washout.

The ZenGraft Plug is the easiest way to deliver bone grafts clinically.

No membrane required - simply place into socket dry and suture in place.

Made to grow ideal bone in preparation for dental implants predictably.

Havoda 59
7706300 Ashdod
Israel