<![if !IE]> <![endif]>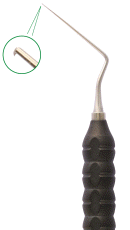 The instruments have been specially-designed for the orthograde revision of an endodontic treatment. The micro-hooks on the fine working ends are produced to utmost precision and ensure a tight hooking into the Guttapercha, at the same time they provide an outstanding tensile strength and stability. The handle made of PEEK, a shape-and color-stable highperformance plastic, is extremely light – each instrument weighs only 12 grams. The handle design combines the advantages of simple cleaning and sterilization with outstanding grip characteristics.
The instruments are available in four versions, adapted to the different clinical situations: length of working ends 26 mm or 18 mm, hooks to left / right or up / down.

Bodenseeallee 14 - 16
78333 Stockach
Germany
+49 7771649990

+49 7771 6499950