<![if !IE]> <![endif]>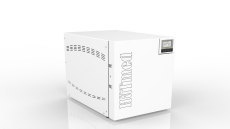 Economical& Efficient Sterilizer/Autoclave
Q50B/Q70B offers more internal space for use because it has a deeper interior space (46 cm in depth). In this way, longer instruments can also be safely sterilized. The strong vacuum pump and the efficient steam generator provide short cycle times.

Independent steam generator to produce saturated steam in a short time.

Cycle reports are saved automatically on the internal machine memory and can be downloaded at any time via the USB port on the front of the unit.

If the sterilizer is powered off during normal operation, the chamber automatically recovers to normal pressure, the loads can be taken out safely and timely by an emergency door or wait for electricity restoration.

Additional drying function
Additional drying time can be set for some special cases to ensure the dryness under various conditions.

Personalized interface,it is possible to set cycle parameters to meet specific needs.

Optional external printer, connected to Q50B/ Q70B via RS232 serial port, it allows all cycle data to be printed on rolls of thermal paper.

Single record export,if the printed sterilization record is lost, it is not necessary to export and reprint through the USB flash drive, and the missing record can be directly exported by the printer.

Sternstr. 67
40479 Düsseldorf
Germany