<![if !IE]> <![endif]>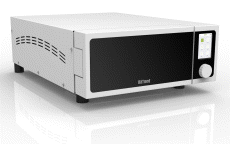 Fast autoclave achieves rapid sterilization with "3 times pre-vacuum" and " dryness " to provide institutions with new, faster and more efficient sterilization solutions. The instruments can be sterilized in 11 minutes enabling safe and rapid treatment and turnover between patients.

"Fast",cycle of sterilization in 11-15 minutes to speed up the turnover of handpieces, scaler handpieces, implant handpieces and implant kits.

No damage to device,three times pre-vacuum quickly extracts the cold air from hollow instruments to improve the penetration of steam to the instruments, not only to ensure the sterilization quality inside the device, but also to achieve a fast and even heating inside and outside the instrument to reduce damage of device.
Effective sterilization,German proprietary pump knowhow exclusive for autoclave, vacuum level -0.92bar.Excellent drying performance.

Rapid sterilization application,meet EU B class standard, suitable for wrapped or unwrapped instruments, hollow A and hollow B types of instruments, implant instruments and kits, orthodontic tool, intraoral scan, electric motor.

Innovative rectangle chamber to improve space utilization,capacity of rectangle chamber equals to 1.57 times of conventional round chamber.

LCD screen displays real time information of sterilization cycle including temperature, pressure in the chamber.
Shuttle button, one button operation,simple and easy to operate and does not affect the operation with gloves.
Automatic door,with a single touch, the door opens.

Sternstr. 67
40479 Düsseldorf
Germany