<![if !IE]> <![endif]>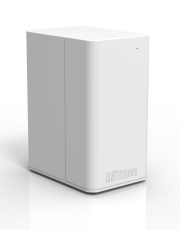 Water treatment adopts reverse osmosis technology with the highest filtration level.It can filter substances larger than 0.0001 microns,which is 100 times the accuracy of water purifiers.The water treatment is a filtration technology that can remove heavy metals, antibiotics, organic matter to avoid limescale,discoloration and corrosion of instruments caused by water quality.It provides cleaning and sterilization water that meets disinfection supply standards for dental clinics and hospitals.

B10 is capable of eventually producing up to 400 gallons water by improving the reverse osmosis membrane and booster pump to increase the flow rate.B10's purification speed is higher than that of the traditional water purifier to meet a variety of purposes of water supply such as steam sterilizer,cleaning and disinfection machine,ultrasonic cleaning machine and pure water faucet.

-Providing cleaning water for instruments
B10 installs an independent pure water faucet to flush the instrument directly in order to protect the instrument from being damaged by water-containing substances in tap water.The hospital's disinfection supply room requires an independent supply of pure water, but the cost is extremely high, which is difficult for ordinary dental clinics to afford. While B10 could solve the problem of pure water supply for cleaning in small and medium-sized medical institutions with economic cost.
Fast speed of water output with large volume, which is sufficient for the cleaning and rinsing of the instrument.

-Hidden installation
B10 is installed in the cabinet under the countertop, not only affect the decoration style, but also save the limited table space in the disinfection supply room. Independent pure water faucet with no water pipes and wires exposed to ensure the table is clean and neat.

Sternstr. 67
40479 Düsseldorf
Germany