<![if !IE]> <![endif]>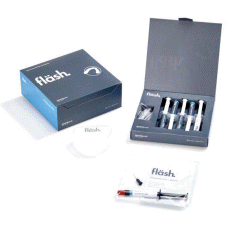 With laboratory made custom trays
fläsh Take Home Whitening Cosmetic tooth whitening for first use in the dental clinic and further use at home with custom-made bleaching trays. The whitening gel in 10 % or 16 % carbamide peroxide for different wear time of the trays provides flexibility in the treatment. The special fläsh formula combines gentle whitening with optimized results. Dehydration and sensitivities are avoided during treatment. Also ideal to further intensify in-office whitening treatments.

Available only at the dentist for patients older than 18 years of age.

Weinheimer Str. 6
69488 Birkenau
Germany