<![if !IE]> <![endif]>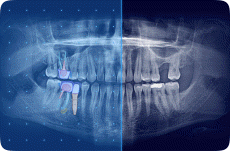 Allisone is a SaaS software using artificial intelligence technologies and materialized by a simple and intuitive interface that helps dentists to show to their patients the elements on the X-ray thanks to a color code. The main purpose of this functionality is to support, through visuals, the practitioner's explanation to enable the patient to visualize and understand the state of his oral health.

Allisone facilitates the patient understanding and confidence

Patient comprehension and chairside education are key for treatment plan adherence. By highlighting the elements on the X-ray and thanks to Allisone's treatment illustrations, the practitioner is in a position to quickly explain and easily address the questions of his patients. Therefore, the patient can easily visualize his practitioner's explanation and understand more easily the stakes of the proposed care. Clarity contributes to fully involve the patient in his treatment plan and  significantly increases patient trust.

Dentists are gaining efficiency in their daily practice 

Thanks to the intuitiveness of Allisone, the dentist is able to create his favorite care and to make his treatment plan in a few clicks. He can then print or send the report and the educational sheets to his patient. The educational sheets provided help the patient to understand through visual what his doctor diagnosed. The illustrated care helps him to understand the future treatment proposed by his doctor. 

Thanks to the digitization of the patient file, collaboration, data transmission within the practice as well as between tools and practitioners is simplified. The practitioner gains in efficiency within his practice while improving the patient experience. Allisone is interoperable by design with the x-ray software and integrated into a large panel of patient management software. Interoperability allows dentists to keep their own habits while improving the practitioner-patient relationship.

144 Avenue Charles de Gaulle
92200 NEUILLY SUR SEINE
France