<![if !IE]> <![endif]>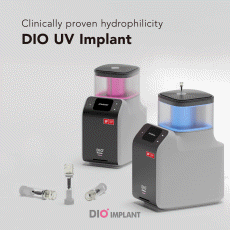 UV Implant

(1) UV Photofunctionalization UV photocatalytic activity proceeds
when UVC is irradiated on the TiO2 layer of the implant surface.

(2) OH-radicals remove hydrocarbons
from the implant surface and increases BIC.

(3) Conversion of a surface from hydrophobic
to superhydrophilic induces improved blood wettability.

(4) Surface modification to electropositive leads to the direct
electrostatic interaction of UV treated surface with cells.

(5) Induces fast bone formation and attains early osseointegration.


UV Activator

(1) Completely reverse biological aging in seconds
* Super-hydrophilic surface achieved in 20 seconds of VUV treatment

(2) The absolute best combination of VUV x Quartz
* DIO IMPLANT's special quartz ampoule lets through high VUV energy with minimal loss

(3) Global cumulative sales of 900,000 units

(4) Amplify hydrophilicity with VUV treatment on EVERYTHING  
* Fixture, Abutment, Crown even Zirconia!

Centumseo-ro 66
48058 Haeundae-gu, Busan
Korea, Republic of
+82 517457738

+82 517457778