<![if !IE]> <![endif]>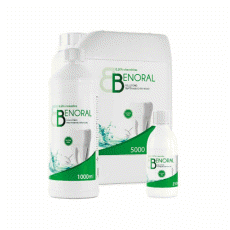 Chlorhexidine Intensive Mouthwash 0.20.
Benoral 0.20 has a continuous and prolonged anti-plaque action due to the ability of chlorhexidine to fix itself for a long time on the mucous membranes, gums and tooth enamel, making it an effective antibacterial agent for the oral cavity. The absence of alcohol respects the mucous membranes more, increases product compliance and does not interact with cements, resins, etc., protecting them from alcohol abrasion. It also contains active ingredients of plant origin that help combat bad breath (aloe vera).

Pack
250 ml bottle;
1 litre bottle;
5 litre jerry can.

Via Antichi Pastifici 15
70056 MOLFETTA (BA)
Italy
+39 0803381004

+39 080 3386617