<![if !IE]> <![endif]>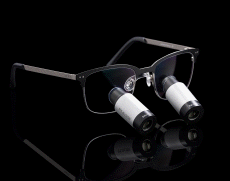 4.0, 4.5 or 5.0x magnification
The latest loupe from Bajohr OPTECmed with kepler eyepiece and sharp as well as high-contrast image is available in magnifications 4.0, 4.5 and 5.0 and thus clearly exceeds the known Galilei systems.
 
Working distances 350, 400, 450, 500 or 550 mm
The BaLUPO 4K will be offered at the market launch in working distances of 350, 400, 450, 500 and 550 mm.
 
Keplerian system in unique design
The new BaLUPO 4K is one of the lightest loupe systems of its kind on the market and combines excellent imaging properties when even higher magnifications are required in particular. Together with our specially developed titanium frames, we are making a statement in terms of design and wearing comfort.
 
Vision correction possible
An individual correction of refractive error can be implemented in the eyepiece as well as in the carrier lens, our field service will select the appropriate lens together with you.

Hansestr. 6
37574 Einbeck
Germany