<![if !IE]> <![endif]>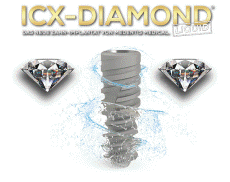 THE NEW ICX GOLD STANDARD FROM medentis medical.

What does our new ICX-DIAMOND® implant line offer you?

You will now receive all our previous proven and successful ICX implants -

ICX-PREMIUM and ICX-ACTIVE MASTER in an even higher quality of strength

for you and your practice - as well as for your patients.

We are now raising our best once again!

ICX-DIAMOND® implants combine the advantages of technically pure titanium with the strength of Ti 6Al-4V ELI.
We use the combination of strength and excellent body compatibility for our ICX-DIAMOND® implants without having to accept a loss of any of these properties.

ICX-DIAMOND® implants also have a hydrophilic, microstructured surface.

Properties such as a hydrophilic and microstructured implant surface, the high primary stability even in unfavourable bone conditions, optimal soft tissue and bone preservation and the adaptable implant alignment will convince you as a user.

Walporzheimer Str. 48-52
53474 Bad Neuenahr-Ahrweiler
Germany