<![if !IE]> <![endif]>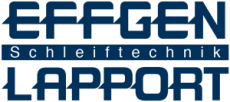 Günter Effgen GmbH
Am Teich 3 -5
55756 Herrstein
Germany
List of product entries
This exhibitor shows the following products and commodity groups:

Company & products
Company & products
Company & products
Unternehmensportrait
Effgen Lapport schleiftechnik
Einzigartiger Systemanbieter für Schleif- und Abrichtwerkzeuge
Seit über 100 Jahren bietet Effgen Lapport Schleiftechnik individuelle Lösungen für anspruchsvolle Schleifaufgaben.
Die Effgen Lapport Schleiftechnik-Gruppe besteht aus der Günter Effgen GmbH mit der Marke Effgen Schleiftechnik und der Lapport Schleiftechnik GmbH mit der Marke Lapport Schleiftechnik. Effgen Schleiftechnik ist Ihr Partner für hochharte Schleif-, Polier- und Abrichtwerkzeuge aus Diamant und kubischen Bornitrid, mit galvanischer, metallischer, keramischer oder Kunstharzbindung. Der Partner für konventionelle Schleifwerkzeuge ist Lapport Schleiftechnik. Ein gemeinsames Netz von Verkauf und Anwendungstechnik nutzt Synergieeffekte, die den Kunde zugutekommen, die systematische Beratung aus einer Hand.
450 qualifizierte, engagierte Mitarbeiter an den deutschen Produktionsstandorten Herrstein und Enkenbach-Alsenborn, Vertriebsniederlassungen in Frankreich, Irland und der Schweiz sowie ein weltweites Netz von Vertretungen und Handelspartnern sorgen für die Nähe zum Kunden.
Schleifwerkzeuge für die Medizintechnik sind eine Kernkompetenz von Effgen Lapport Schleiftechnik. Für den Dentalbereich bietet Effgen Schleiftechnik galvanisch belegte Diamant-Schleifstifte zur Bearbeitung von Zahnersatz aus dentalen Glas- und Hybridkeramiken für alle gängigen CAD/CAM-Maschinen:


Speziell abgestimmte Beschichtung für hohe Standzeit und Ausfallsicherheit


Hohe Rundlaufgenauigkeit für verbesserte Randqualität, weniger Abbrüche und allgemein gesteigerte Restaurationsqualität


Träger in Stahl- und Vollhartmetallausführung


Maximale Flexibilität - wir beschichten angelieferte Träger oder liefern das komplette Werkzeug. Ganz nach Kundenvorgabe


100 % Made in Germany
Präzision und Innovation in allen Produktbereichen zeichnen Effgen Lapport Schleiftechnik aus. Das richtige Zusammenspiel von Körnung und Bindung in Kombination mit einer hochpräzisen Fertigung führt zu optimalen Werkzeugen.