<![if !IE]> <![endif]>

EG Medical S.r.l.
Via A. Volta 56
35010 Villafranca Padovana
Italy

+39 0499076532


+39 0497841015


List of product entries

This exhibitor shows the following products and commodity groups:


Company & products
Company
Company profile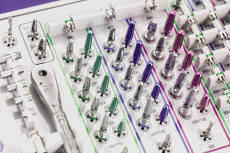 Company portrait
EGmedical is a worldwide leader in plastic solutions for healthcare.

We deal with medical applications. We are specialized in the production of plastic trays to hold surgical instruments suitable for autoclave sterilization.

Our Grommet-less patented technology has become a revolution in the field of surgical trays. We developed a technology that makes the cleaning and disinfection process safer and easier.

Reliable partner for the production and design of plastic products for the medical industry.
We are specialized in the injection moulding of thermoplastics and silicone LSR in a standard environment and Clean Room ISO 7 at rest.

As a partner, we follow our customer through all the project steps: from the customer's idea to the engineering and industrialization of the product, including the design and construction of mono and multi-cavity moulds, to the final product, which includes all the customization process like milling, laser marking, silk screening, waterjet cutting, and final assembly and packaging.

ISO 9001:2015 / ISO 13485:2016 certified.
FDA registered.
Products
EGmedical
EGmilling
EGtray
Grommet-less technology
Implant packaging
EGmilling
Modular kit
prosthetic Kit