Elma Schmidbauer GmbH
Gottlieb-Daimler-Str. 17
78224 Singen
Germany
+49 7731 8820

+49 7731 882266

List of Products
This exhibitor shows the following products and commodity groups:

Company & products
Products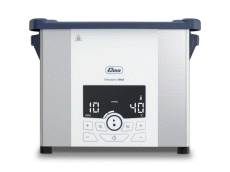 Elmasonic Med

Elmasonic Med* is the series of powerful and MDR-compliant ultrasonic cleaning devices (3 - 90 l) that stands for reliable pre-cleaning of medical, dental and surgical instruments, prostheses and implants.

With 37 kHz ultrasonic frequency and the 5 ultrasonic modes, even the most stubborn contamination can be removed.**

degas - Fast degassing
eco - Quiet, energy-efficient operation and longer unit life
sweep - Uniform ultrasonic cleaning effect
pulse - For removing stubborn contamination
dynamic - Automatic switching between pulse and sweep for even better cleaning results

The application-specific cleaning chemicals Elma Dent and Med Clean developed by Elma and practical accessories such as baskets, tray holders, etc. ensure the best cleaning results.

*Medical device class I acc. to Medical Device Regulation (EU) 2017/745.
**Elmasonic Med does NOT replace reprocessing in the WD.

Translated with www.DeepL.com/Translator (free version)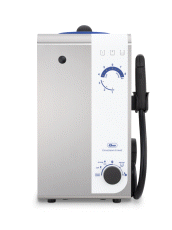 Elmasteam 8 med

Certain heavily strained instruments such as burrs, drills and HF instruments often do not become sufficiently clean in the standard washing and disinfecting unit.*

The Elmasteam 8 med** steam cleaner can be used to pre-clean instruments and to gently remove even stubborn contaminants, like bone and tissue residue on burrs, burnt-in tissue on electro-surgical HF instruments, for example. This means that valuable instruments can be used for a long time. It is also possible to clean the internal volumes of tubular shaft instruments by means of the Luer-Lock connection on the handpiece or using the
adapter set.

A longer product life is ensured by the intelligent control of the Elmasteam 8 med, which calculates the right time to descale the device based on the set water hardness and the intensity of use. Step by step, the device guides you through the descaling process.

*Elmasteam 8 med does on principle NOT replace preparation in the cleaning and disinfection device.
**Medical Product Class 1 according to MDR (EU) 2017/745.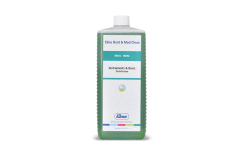 Elma Dent & Med Clean

Elma Dent & Med Clean cleaners are most suitable for pre-cleaning instruments, for plaster and cement removal as well as for intensive and refreshing cleaning of worn prostheses.
The MDR-compliant series of cleaning agents includes
- the universal cleaner EC 10*
- the ready-to-use cleaner EC 25* for residue-free removal of alginates and dental plasters
- the highly effective EC 35* cleaner with active oxygen component for cleaning prostheses
- the disinfecting cleaner EC 55**
- and the intensive cleaner EC 60* for regular, acidic basic cleaning of instruments and prostheses.

*Medical device class I acc. to Medical Devices Regulation MDR (EU) 2017/745.
**Medical device class II acc. to Medical Devices Regulation MDR (EU) 2017/745.

<![if !IE]> <![endif]>