Rego X-Ray GmbH
Stuttgarter Str. 5
86154 Augsburg
Germany
+49 821 4504350

+49 821 45043511

List of Products
This exhibitor shows the following products and commodity groups:

Company & products
Products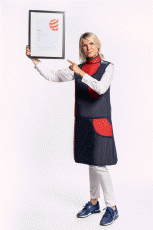 Dental aprons for the patient and for medical personnel

All of our REGO dental aprons, made of robust, extremely supple, weight reducing multilayer X-Ray protection materials, are available in two product lines: CLASSIC LINE and SILVER LINE.

CLASSIC LINE is our standard model for varied basic applicati ons. SILVER LINE provides a perfect solution for daily work and convinces also with its unique features like antimicrobial, thermore­ gulating and anti -odo ur, as well as with its maximal wearing comfort and modern design. Our high-quality product line SILVER LINE is awarded by the Red Dot Design Award. Both models are produced conforming to the current norms DIN EN 61331-3:2016 and the guideline of personal protective equipment (EU) 2016/ 425.

In addition, for all models you can choose your preferred colour from a colour range of eight colours. Whether you like colourful or muted colours, for each preference we have a soluti on: navy blue, bavarian blue, cherry red, emerald green, sunset red, titanic silver, dark pink, borde­aux red.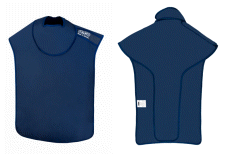 Panoramic Patient protection + backside protection and panoramic thyroid shield

You need a patient protection for panoramic images with the orthopantomograph, in dentistry or for lateral skull radiographs? We have the perfect solution for you. Our easy to handle and two-piece panoramic patient and backside protection is perfect for standing image radiographs. Frontally the patient is protected with the apron over the tights and with the panoramic thyroid protection. In addition, the apron covers the spine with a long strip of X-Ray material on the backside of the patient, which secures maximally against X-Rays. The apron is closable with the help of a high-quality Velcro. The especially developed panoramic thyroid shield protects the thyroids against X-Rays and enables optimal and unlimited image recordings. Choose our Panorama patient protection including backside protection and panoramic thyroid protection!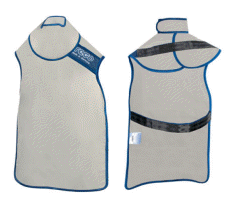 Standard patient protection + panoramic thyroid shield

A maximum frontal protection – a maximum wearing comfort – an individual customization – an unlimited image recording – our standard patient protection two-piece including panoramic thyroid protection guarantees you these specifications.

For sitting or lying radiographs we developed our individually adaptable standard patient protection. The two-piece standard patient protection, consisting of an apron and a panoramic thyroid shield protects maximally the patient from undesired, frontal X-Rays. The Velcro over the shoulder blades generates a maximum of protection as well as a high wearing comfort. Therefore the apron can be put on perfectly and fast. The exclusively developed panoramic thyroid protection is included in the set as well.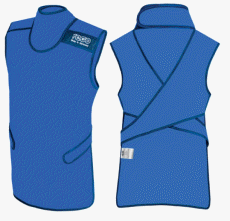 Dental apron + Standard Thyroid collar

You are looking for varied applicable aprons? Our model "dental apron" is your solution, as it is usable for patients as well as for operators. Additionally, it is independent whether you need it for panoramic, cephaometric or sinus radiographies. This model fits for all these applications. The weight reduced dental apron, consisting of two pieces, ensures unlimited frontal protection until over the tights as well as protection for the shoulder blades. With the side wings it can be closed with high quality Velcros on the front side. Including to the set of this dental apron you get a standard thyroid shield protecting the whole neck.

Wall racks

We have a big assortment for you to store your X-Ray protection aprons – swivelling or tob e folded up, for one, two, three, five, six and up to ten aprons. Depending on your requirements and facilities  we offer various possibilities. For your X-Ray protection gloves there are possibilities too – separate wall racks for up to three pairs of gloves.

X-Ray protection goggles

Are you looking for an eye protection against X-Rays? For any wishes and specifications you find at Rego the suitable goggles. We offer the following models.


Model "Panorama"

The wrap frame is constructed of extremely durable Acetate that exhibits superior flexibility while minimizing potential breakage. The molded wrap features provide a maximum comfort with a full saddle bridge made of silicone and spring hinges. Weight is distributed evenly over the nose while providing excellent peripheral vision with leaded glass side shields. Supplied with a cord.

Do you wear glasses? For this spectacle a correction of +4,0 up to -7,0 is possible. Please contact us in this respect with your required correction data.

Model "Ultra-light"

Manufactured of lightweight Nylon, the Ultralight is designed to offer comfort and provide protection for the entire eye area without the need of an added side shield for lateral exposure having a lead glass of Pb 0,75 mm (+/-0,05 mm Pb). The curved front and temples with rubber tips including a cord assures a close and secure fit. For spectacle wearers this model can also be supplied as correction glasses with +3,0 up to -3,0 diopters. Isn't this model the perfect spectacle for long during examinations and treatments?

Model "Fitover"

You are wearer of glasses and you would like an all-purpose spectacle for collegues with and without glasses? For this situation we offer the model Fitover having a side protection. The Fitover goggles are worn over the own correction glasses and offer a maximum all-around X-Ray protection, splash guard for X-ray treatments and a periphere sight on the operations.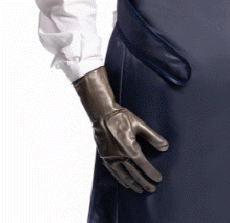 X-Ray protection gloves for surgeons

Are you looking for sterile, latex-free, elastic and smooth one way gloves? Please choose the REGO-X-Ray-protective gloves for surgeons.

7 different sizes (from size 6 up to 9), 3 different protection grades, a high skin tolerance and X-ray protection.

<![if !IE]> <![endif]>