<![if !IE]> <![endif]>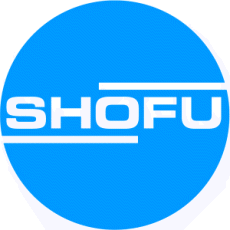 SHOFU DENTAL GMBH
An der Pönt 70
40885 Ratingen
Germany
+49 1743445198

+49 2102 866465

List of product entries
This exhibitor shows the following products and commodity groups:

Company & products
Company
Company profile

Company portrait
SHOFU has been committed to close cooperation with dental teachers and researchers and a lively exchange of ideas with opinion leaders and customers since its establishment in 1922. We have supported, for example, the concept of Minimally Invasive Cosmetic Dentistry (MiCD) by developing aesthetic, biofunctional materials, such as the Giomer class with our proprietary S-PRG filler, combining minimal invasiveness, today an important cornerstone, with aesthetic dentistry – for defect-oriented direct restorative therapies with integrated preventive effects.

Rotary instruments, highly aesthetic direct restorative materials, luting systems, dental ceramic systems, light-cured micro-hybrid composite systems, artificial resin teeth, CAD/CAM materials, high-tech equipment, such as the EyeSpecial dental camera: SHOFU´s wide range of products reflects the whole spectrum of state-of-the-art dentistry and dental technology, offering users sophisticated products they can rely on when creating lifelike, aesthetic restorations.

SHOFU DENTAL GmbH, Germany, was established in Ratingen in 1978. Since 1985, SHOFU´s German subsidiary has also represented the interests of the Japanese parent company throughout Europe and from the Greater Middle East to South Africa.

In mid-2020, SHOFU´s European headquarters was moved to Ratingen-Breitscheid – to further increase product diversity and availability and improve customer service and educational opportunities: Now we have not only an expanded, digital warehouse and a spacious administrative department with open communication zones, but also, at the heart of our new, two-storey building, the International Dental Academy with a laboratory, a lecture room and a cafeteria. From 2021, SHOFU DENTAL GmbH will regularly offer dentists and dental technicians from all over Europe hands-on courses (e.g. on customised porcelain and composite layering, 2D and 3D staining or efficient direct restorative techniques) in this new training centre.
Products
ZirGloss: High-performance polishing compound perfects the surfaces of monolithic zirconia and lithium disilicate restorations
SHOFU Disk ZR Lucent Supra: The Multilayer Zirconia for All Indications
Vintage Art Universal: The Universal Stain and Glaze System by SHOFU
Solidilite LED: Let There Be Light – With LED Power by SHOFU
OneGloss M: Autoclavable OneGloss M Polishers by SHOFU
EyeSpecial C-IV: The Dental Camera for Your Practice or Laboratory
Ceramage UP: The flowable high-end veneering composite for free build-up
SHOFU Block HC Hard: CAD/CAM hybrid ceramic blocks for highly durable and aesthetic single-tooth restorations
Beautifil Flow Plus X: Injectable hybrid composite in two viscosities
Zirconomer Improved: The tooth-coloured "amalgam" – mercury-free, durable and eco-friendly
Beautifil II LS: Low shrinkage, high polishability
Super-Snap & Super-Snap Xtreme: Polishing of micro-filled and hybrid composites
SHOFU GlasIonomer FX Ultra: The quick path to durable and aesthetic restorations
Vintage Prime Press: High-strength lithium disilicate glass ceramic with new HDIL technology